Ukrainian refugees arriving at the Romanian border in May 2022.
Photo credits: Ioana Moldovan / Hope and Homes for Children
20 June is World Refugee Day, a day of solidarity for displaced people around the world. Along with an inspiring story of a teenage refugee from Ukraine, we're sharing some need-to-know facts on the refugee crisis, how it affects children, and how we can offer them 'hope away from home' – this year's theme for World Refugee Day.
"I couldn't believe it, even with the sirens blaring. I just laughed nervously. I told myself it was impossible."
These are the words of Daryna*, a 17-year-old girl who was living inside a Ukrainian orphanage when Russia declared war on her country.
Almost overnight, Daryna's life changed forever. Within a few weeks, she was evacuated across the border into Romania for safety. A teenage girl, already separated from her family and isolated in an orphanage, now a refugee.
The Russian invasion of Ukraine has created the largest displacement of humans in Europe since the Second World War. But tragically, it's just one of the latest chapters in the defining humanitarian disaster of our time: the refugee crisis.
So today, on World Refugee Day, we're standing shoulder-to-shoulder with the displaced children, adults and families of the world.
Because we know that every child, no matter who they are or where they're from, deserves to grow up in a safe, loving home.
But before we go any further, let's start with the facts.
Need-to-know facts on the refugee crisis
From Syria to Venezuela, Afghanistan to Ukraine, innocent people across the globe are being forced to flee their homes due to war, persecution, famine and the climate.
Make no mistake – as parts of a global community, the refugee crisis affects us all.
How does the refugee crisis impact children?
It goes without saying – when children's families are uprooted, the outcomes are severe.
Shockingly, around 40% of the world's displaced people are children. Let that sink in.
From the traumas of leaving home to the dangers of crossing borders, displacement is a horrific experience for a young person – one that Daryna was forced to endure.
Shortly after Russia invaded, she was evacuated to Bucharest alongside 16 other children from her orphanage. They were accompanied by two Ukrainian teachers who volunteered to take them out of Ukraine along with their own families.
"In total, the trip took us around 20 hours. It was so difficult. I was terrified and exhausted. But mostly I was scared about bombs dropping on us. It was a long and hard journey."
Daryna, like millions of other refugees, was fleeing a warzone. To get to safety, they have to embark on an equally dangerous journey – another traumatic experience.
On their way, displaced young people are vulnerable to abuse, exploitation from smugglers, or even sexual and gender-based violence.
Tragically, this journey never really ends. Even when they arrive at their destination, the threat of abuse and neglect lingers.
Why are refugee children at high risk of being institutionalised?
When communities break down and families are torn apart, children are at risk of being placed into orphanages.
This is especially true for unaccompanied children. Without family to protect them, they can be abandoned, abused, or trafficked.
When host countries don't have the right set-up to care for these children, they often resort to institutionalised care.
Refugee camps, detention centres and orphanages are all extensions of the institutionalised care system, which as we know, is no place for a child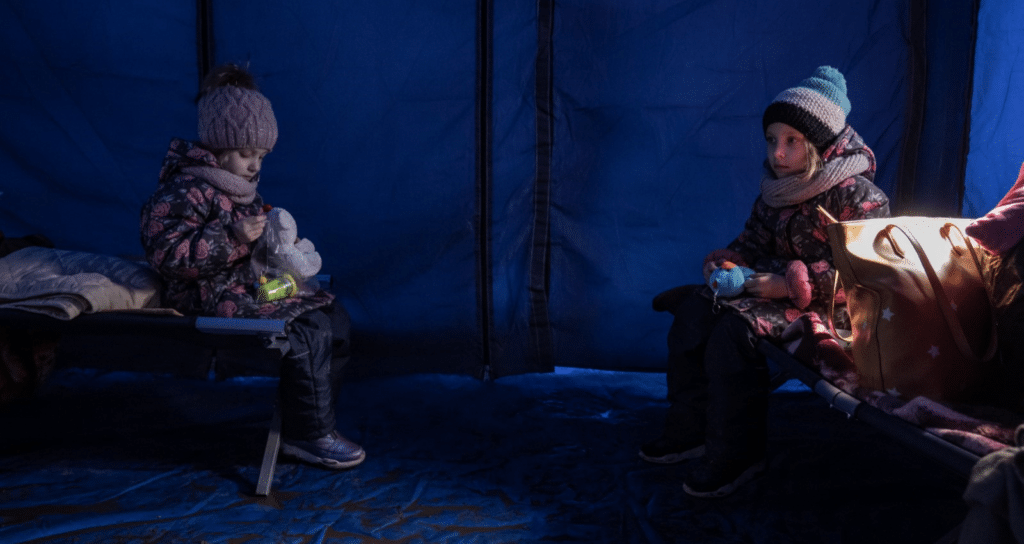 That's why we're fighting to keep families together, particularly in times of crisis. Because we know orphanages are never the answer. Children deserve families, children deserve homes – especially when the world has taken that away from them.
How are we helping?
Since Russia invaded Ukraine, we've mobilised our teams in Ukraine, Moldova and Romania to protect displaced children from orphanages.
We're no humanitarian organisation. But the efforts of our teams have been astounding. You can read more about our work in our Ukraine: One-Year-On Response Report. As of January 2023:
In Ukraine, we've supported over 69,000 adults and children, providing counselling and medical aid to over 21,000 displaced children.
In Moldova, we've provided help to more than 3,500 children and adults fleeing the war in Ukraine.
In Romania, our team helped over 7,800 refugees, around 2,700 of them children, with anything from counselling to supporting their living expenses – just like we did for Daryna.
Upon arrival in Romania, Daryna and the 16 other children from her orphanage were welcomed into an emergency child protection centre – a former orphanage which we closed in 2019.
"It was around midnight when we got in, but we were surprised to find all the Romanian staff were there waiting for us. They'd been waiting for us for 20 hours; they hadn't gone home."
Thanks to our supporters, we've been covering all their living expenses, from food and clothes to school supplies and medicine. As well as supporting their hobbies and interests.
Our work is essential to ensure young refugees like Daryna don't fall through the cracks. It's one thing to have a house. It's another to be safe, continuing your education and having a chance to grow up happily.
How can you help?
World Refugee Day brings essential attention to the refugee crisis. But for displaced people around the world, solidarity is needed every day of the year.
We're all part of a global community, a world-wide family. We know that every person out there has a right to a home and a right to safety.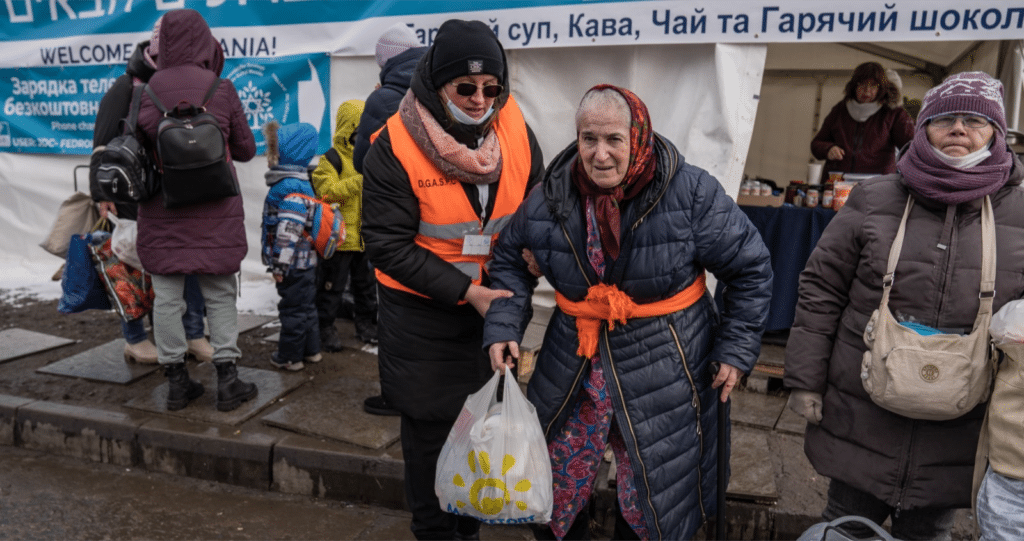 Sometimes, we can help by voicing our support. Just like two young Romanian boys did for Daryna when she arrived in her new home.
"When we'd nearly reached Bucharest, our bus stopped at a gas station. There were some young Romanian boys outside who heard us speaking Ukrainian.

Suddenly, they started shouting 'Salvează Ucraina!' That means 'Save Ukraine!'

They gave us money, saying 'Please, take it if you need it.'

Then, they said 'We are with you. We stand with you.'"
In that moment, Daryna was given a glimmer of hope away from home.
Thanks to the welcoming of those boys, she knew that she mattered. Even when the world has taken her home away from her, a new one can be created.
Hear the rest of Daryna's story, in her own words
Hope away from home
Daryna's just one of millions of children who've experienced the harsh realities of forced displacement. Each of them has lost their homes, each of them has a story to tell, and each of them matters.
On World Refugee Day, let's champion the rights, strength and resilience of refugee adults and young people all around the world.
Let's come together and echo the words of the young Romanians who welcomed refugees into their country:
"We are with you. We stand with you."
Together, we can offer them hope away from home.
If you'd like to help us continue providing essential support to young people like Daryna, please donate today.
Donate to support our work in Ukraine
*Name changed to protect identity