Leaving a gift in your Will to Hope and Homes for Children is a very simple thing to do. And if it's something you're considering — thank you.
Every child needs someone to love them and somewhere to call home. Every child belongs in a family. Few of us will forget the harrowing images of Ceaușescu's brutal orphanage system in the early 1990s. We've been working in Romania ever since, bringing down the number of children confined to orphanages in the country by over 90%. The day is coming when the last orphanage there will close.
Together, we can continue the work our founders, Mark and Caroline Cook, began. If you believe every child belongs in a family, both today and for generations to come, make it part of your legacy to consign orphanages to history.
Hilary first heard about Hope and Homes for Children when she saw our founder Mark Cook on This Is Your Life in 1999. As Hilary watched that TV programme, hundreds of miles away in Romania, David and his two older brothers became orphans when both their parents passed away.
Aged just seven, David ended up confined to the Victor Babeș orphanage for preschool children in Baia Mare. He was among the last generation who, when his family were no longer able to look after him, was sent to an orphanage.
A year later, Hope and Homes for Children supported the authorities to close the orphanage, and David moved into one of the two new family homes we established so the young children could grow up in a caring, family-type environment instead.
In 2010 Hilary passed away, and as a passionate supporter of our work, she left us a gift in her Will of £10,000. It was this legacy that helped us continue our support of the children from the Baia Mare orphanage. We had found David a loving small family home and, as a young man, he attended technical college and combined it with paid work to start saving for his future.
Recently we helped David secure a modern apartment of his very own, and he continues to work hard to equip his new home with the essentials. "I have always had this dream," David tells us, with a smile. "To learn, to leave the child protection system, and to have my own home… I am very grateful. Thank you, everyone."
In Maramureș County alone, where David's orphanage for preschool children was located, we closed a further nine institutions to make it entirely orphanage-free. Today, tomorrow, and for generations to come, no child in Maramureș will ever have to experience what David went through.
Of course, Hilary and David never met, but in choosing to leave a gift in her Will to help children grow up in a family, she gave David the support and love that enabled him to build a happy life and future for himself—a lasting legacy that also helped change a generation.
It's a lovely thought, isn't it? That in the future a child with a place in a loving family and a life full of promise will have a connection with you.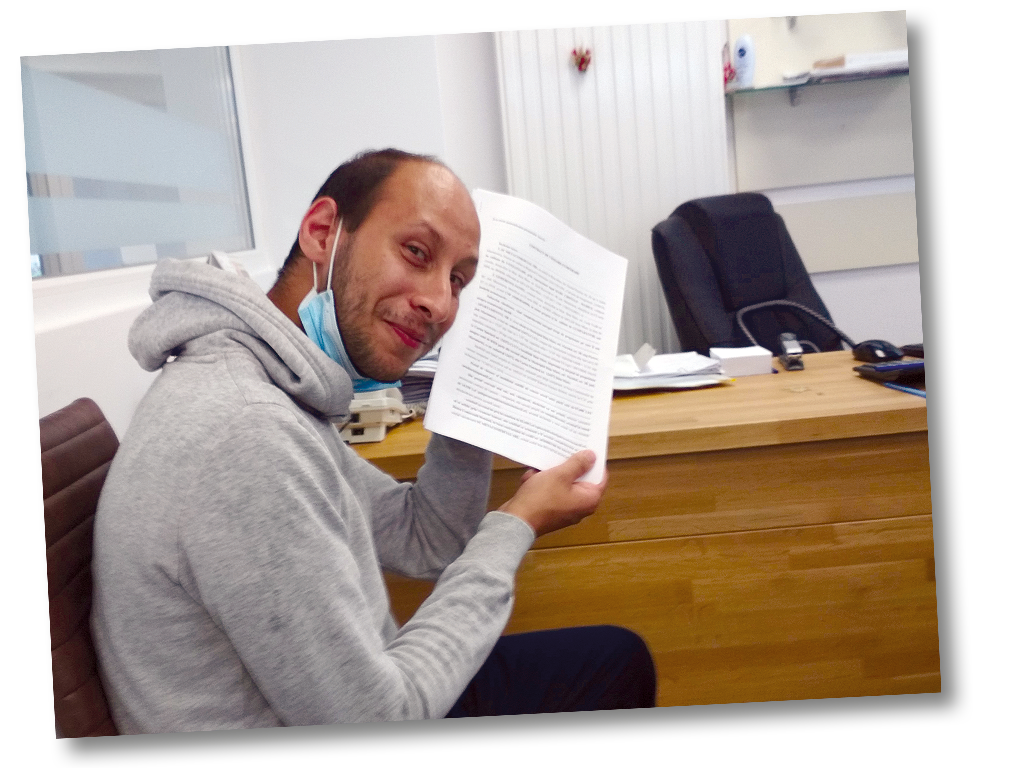 Leaving the gift of love for children
We understand that your own family will always come first. By remembering Hope and Homes for Children in your Will, you can be there for others too, replacing orphanages with loving families for generations to come.
Leaving a gift in your Will is one way you can leave a lasting legacy, by changing the world for vulnerable children long into the future, without it costing you a penny today.
Use your Will to change a life today, a generation tomorrow, and the world forever.
John and Anne have kindly named us in their will.
"In our view family is our priority, so we have catered for our children and grandchildren in our Wills. But family is also at the heart of what Hope and Homes for Children is about—ensuring children can grow up in the love and protection of a family and not in an orphanage. When we're gone, we'd like to know that much less fortunate children will enjoy the same love and security our own grandchildren take for granted."
Get in touch
Joe Sutton, our Head of Supporter Care, has been looking after our supporters since 2007, including those who have pledged a gift in their Will. If you would find it helpful to have an informal, confidential and no obligation chat with Joe about your Will, please let us know by filling in the form below.
Useful resources
We'd like to thank you properly  
Your Will is naturally a private matter, but if you're willing to keep us informed about any decision you make relating to Hope and Homes for Children, we'd appreciate the chance to thank you properly. Any information you provide will, of course, remain strictly confidential.
.