Daryna*, an orphanage evacuee from Ukraine, now living in Romania.
Photo credit: Ionut Stoica/Hope and Homes for Children
One year ago, 17-year-old Daryna* was living in one of Ukraine's 700 orphanages. When Russia invaded her country, she was evacuated to Romania alongside 16 other young people: an institutionalised teenager, now a refugee.
Thanks to our supporters, we've been covering all their living expenses, from food and clothes to school supplies and medicine. As well as supporting their hobbies and interests. No matter what, we're committed to sticking by them every step of the journey.
Over a year since she left Ukraine, Daryna agreed to share her story with us and reflect on her experiences, from growing up in a Ukrainian orphanage to being separated from her siblings when Russia invaded, to becoming a refugee at 17 years old.
Her story sheds light on the hidden victims of Russia's attack: Ukraine's institutionalised children. But most importantly, it's a story of strength, bravery and the power of family.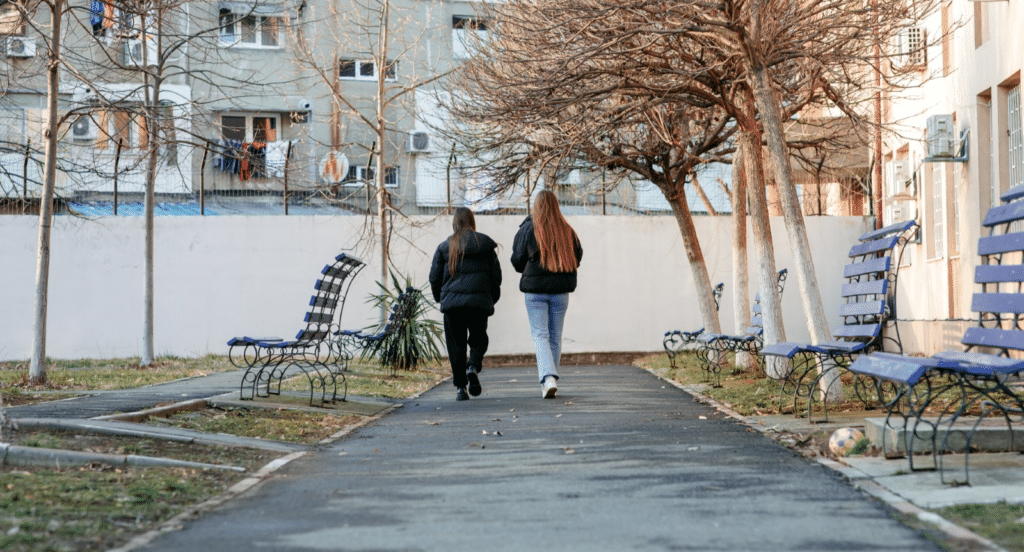 In Daryna's* words
Growing up inside an orphanage
I've been in the child protection system since I was five years old. I grew up in an orphanage with my younger brother and two younger sisters. I'm the eldest. My brother is 16, my sister is 13, and my other sister is 12.
It was so hard for us when we were living at home. My mother struggled with alcoholism and couldn't take care of us properly. We didn't have food or clothes.
One day, my sister and I got sick and went to the hospital. Then, somehow, we were taken away to stay in this great big building. And that was the orphanage we grew up in.
It was better for us there in the sense that we felt secure. We were safe. But it wasn't home.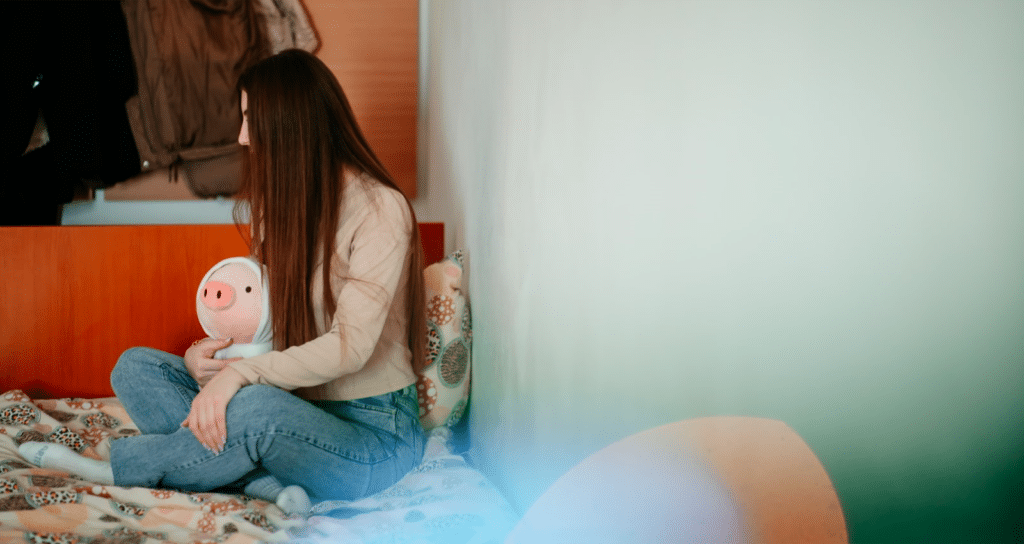 At the start, my dad would come to visit us on our birthdays. He'd insist on bringing us clothes and sweets. He'd bring us home for the day, then take us back to the orphanage.
But two years ago, when I was fifteen, our dad died. We couldn't go home anymore. It was so hard – he meant the world to me.
The beginning of the Russian invasion
On the night Russia declared war on Ukraine, I was asleep in my dormitory with my best friend Oksana*. It was 4am.
"Did you hear that?" she said. "I think the war's just started."
At first, I just dismissed her. Oksana's often frightened because of her childhood experiences. "Go back to bed," I said. "It's just your imagination."
But then, at 6am, the sirens started to go off. Oksana woke me up.
"Daryna, the war has really begun."
I couldn't believe it, even with the sirens blaring. I just laughed nervously. I told myself it was impossible. But an hour later, the headmaster came in. He told us we had to go home. The orphanage was closing.
Oksana and I decided to leave by bus and stay with a friend's family. Our friend's village was near the Moldovan border, just a three-hour walk away. We figured if we needed to leave and cross the border, we'd be able to go on foot.
My siblings stayed in the town of our orphanage. It was getting more and more dangerous there.
Oksana and I were with our friend's family for a few days, until we got a call from one of our teachers. She told us that they'd hoped the war would end in a couple of weeks. But now, they realised it would last a long time. So, the orphanage staff decided we had to be evacuated to Romania.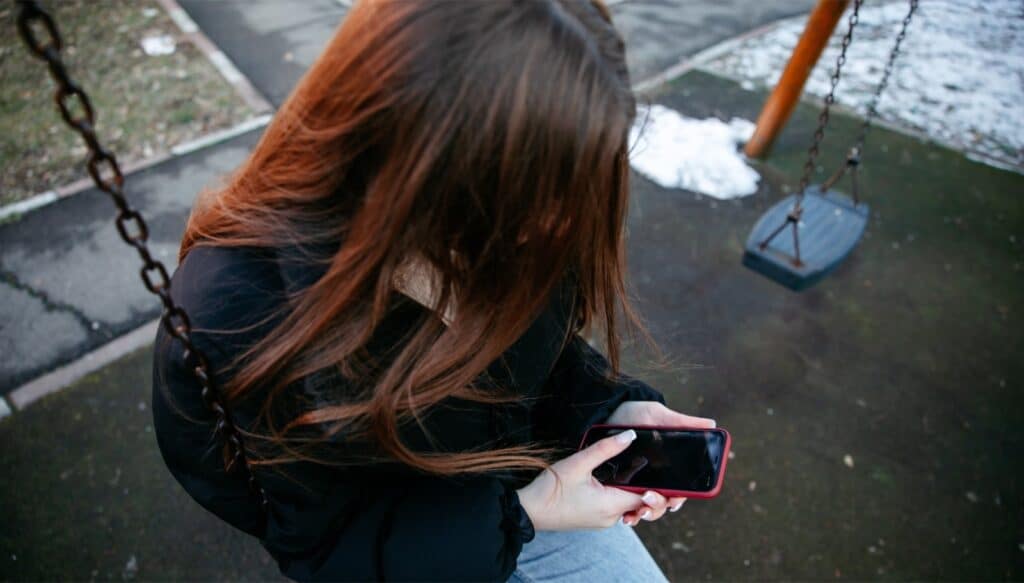 One week later and we were back in the orphanage, packing our clothes and anything we could take with us.
By the time I got back, my younger siblings had already been sent to Poland, because we were evacuated with our caregivers according to our age. We didn't even get to say goodbye.
I stayed in touch with my sister on WhatsApp. But when they first arrived in Poland, they had mobile issues and couldn't call me. We were only out of contact for 24 hours, but it felt like forever. I was so worried for them.
The journey to Romania
We left early in the morning and travelled by bus to Odessa. Then, we got a train to Izmail. From there, we crossed the Danube River Delta by boat, arriving in the city of Tulcea in Romania. Finally, we got a bus to Bucharest.
In total, the trip took us around 20 hours. It was so difficult. I was terrified and exhausted. But mostly I was scared about bombs dropping on us. It was a long and hard journey.
When we'd nearly reached Bucharest, our bus stopped at a gas station. There were some young Romanian boys outside who heard us speaking Ukrainian.
Suddenly, they started shouting "Salvează Ucraina!" That means "Save Ukraine!"
They gave us money, saying "Please, take it if you need it."
Then, they said "We are with you. We stand with you."
Despite the exhaustion of such a long journey, it put a huge smile on our faces. The girls I was travelling with got back on the bus laughing, saying "We can't believe it. They're supporting us."
We were so impressed with how the people in Romania welcomed us. They were warm and caring, giving us everything we needed. "What a beautiful country," I thought.
Life in Bucharest
When we finally arrived in the emergency child protection centre, I was so tired that all I wanted was a bed to sleep in.
It was around midnight when we got in, but we were surprised to find all the Romanian staff were there waiting for us. They'd been waiting for us for 20 hours; they hadn't gone home.
We were shown to our rooms, and I got to share with my best friend Oksana and two other girls. Now, there's four of us all together.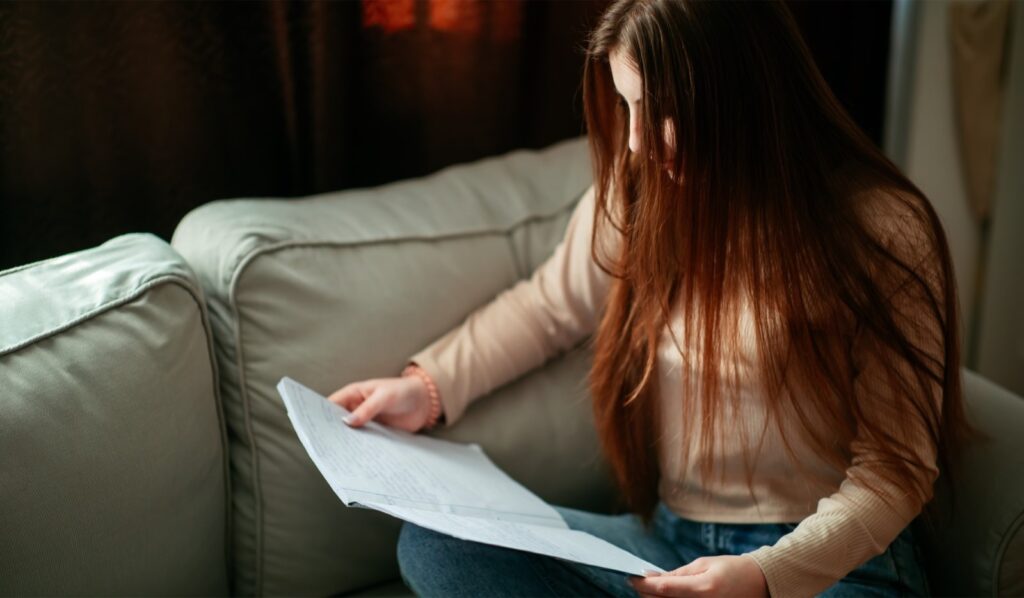 Since arriving in Romania, life's been OK. I'm in my second year of high school, studying online every day. Most of my peers are still in Ukraine, at home with their families.
When it comes to food, clothes, and being warm and safe, I'm fine. But still, I'm sad most of the time. I miss my brothers and sisters. I'm very worried about what's happening in Ukraine.
I want to see my brothers and sisters more than anything. I really hope I can return to Ukraine, that everything will be over.
I don't know how that will happen, or how we'll manage to live together again.
All I know is that when I see them, I'll give them a huge hug.
Hope away from home
Daryna's* story is one of many. When Russia launched its assault, children living in Ukrainian orphanages – 90% of whom had parents who could've taken care of them – were uprooted and evacuated even further from home. 
It's one thing to experience your country being invaded. It's another to endure it alone – without the love of family, the protection of parents, or the company of your siblings.
At just 17, Daryna has experienced hardship far beyond her years. But still, she has hope.
And that's what we're committed to protecting. Not just for Daryna, but for every child that's had to suffer the double trauma of institutionalisation and displacement. We're working to show them there's hope.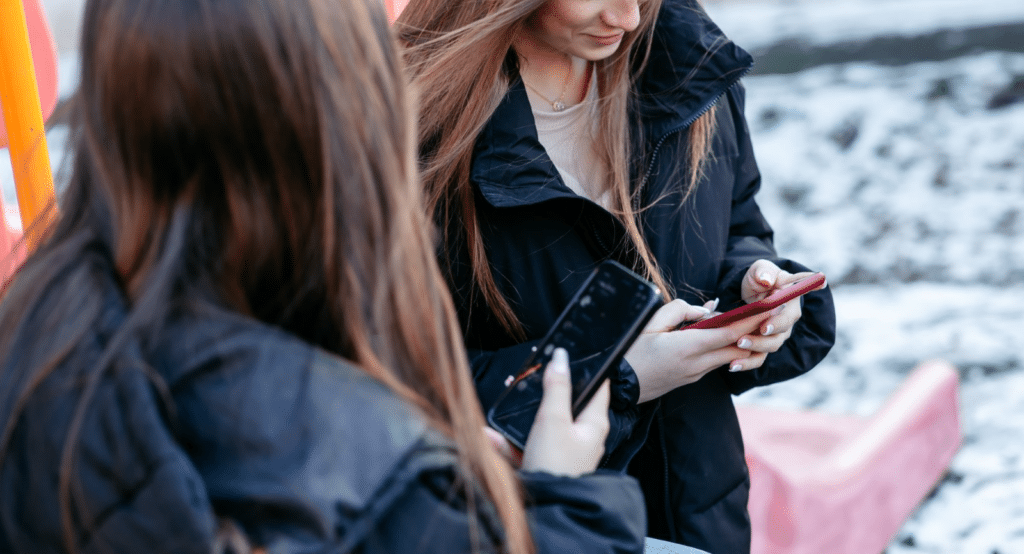 After being evacuated, Daryna and 16 other young people were welcomed into an emergency child protection centre in Bucharest – a former orphanage which we closed in 2019 that's been transformed into a sanctuary for young refugees. 
Daryna's now one of the 8,187 refugees – 4,559 of them children – that our team in Romania have supported since the start of the war. In partnership with the Romanian government, we're continuing to do everything we can to support their safety.
But that's not all. Since 1998, we've been working to shut down all orphanages in Ukraine. Now, as the world turns its attention to the reconstruction of Ukraine, we're pushing to ensure social reconstruction is made a priority.
Ukraine must transform its child protection system, putting families at its core, and working towards an orphanage-free future for its children. 
If you'd like to support our work and help ensure no more children have to endure their childhood locked away in an orphanage, please make a donation today.
Donate to support our work in Ukraine
*Name changed to protect identity