Long-term supporter Wendy and her granddaughter Grace, 11, outside Grace's school.
Wendy has supported Hope and Homes for Children for 25 years. Now, she's teaming up with her granddaughter Grace to continue the tradition. Watch their inspiring story below.
"I was brought up in a happy, supportive family. I have a great marriage, lovely children and grandchildren. I know just how lucky I am. So if there's any way I can support people who aren't as lucky as me, I want to do it."
Wendy has been a supporter of Hope and Homes for Children for 25 years. A former teacher, she's long observed how important having a safe and happy home life is for a child.
"I could see how children were suffering if there wasn't the support that they needed at home," she explains. "That's why I wanted to help."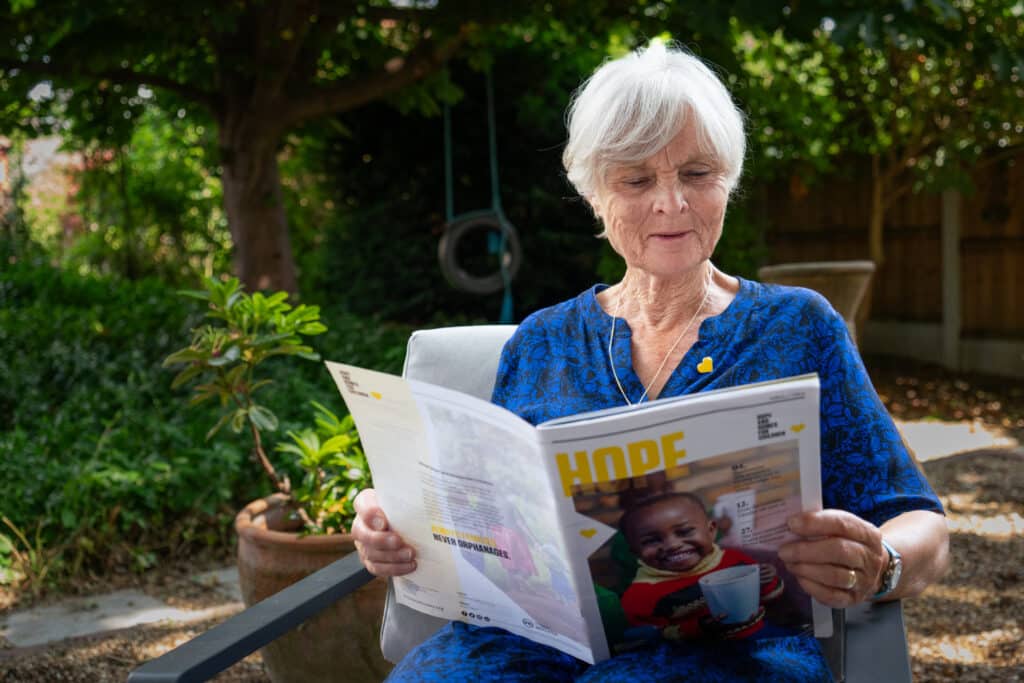 Now, Hope and Homes for Children has come to be known as "Grandma's charity" to her five grandchildren. That's why when 11-year-old Grace, as house captain, was tasked with proposing a charity for her school's charity of the year, she came to Wendy for advice.
With help from her dad, she prepared a presentation, made note cards and made a speech in front of the entire school. Everyone voted. And Hope and Homes for Children won.
Since then, Grace's school has spent the year fundraising for Hope and Homes for Children. So far, they've raised over £2,000 for our work.
"It's incredibly important for us at Stormont to have a charity of the year," says Alexis Sobell, Deputy Head.
"We want to empower our girls to give back to the local community, helping others that haven't had as great starts in life as they've had."
For Grace, that means giving other children the chance to grow up surrounded by the love of family, just like she has.
"I've had a lot of support from my mum and dad," she says. "In the future, I hope children won't ever have to grow up inside orphanages, and that they'll all have really vibrant childhoods."
"There should be no more orphanages. The more support for Hope and Homes for Children, the better."

Wendy
Wendy and Grace give us intergenerational hope for the future. A future where no child, no matter where they're from, has to grow up inside an orphanage.
From fundraising in our local communities to spreading awareness of the harms of institutions, we all have the power to fight for the rights of children to grow up in families, not orphanages.
Sometimes, all it takes is a chat around the dining table. Do you have any friends, colleagues or loved ones who you feel you could talk to about Hope and Homes for Children? You never know where it might lead.