Long term supporters will know we've been working in Ukraine since 2007. Recently, as shelling intensified, our colleagues in Ukraine made the extremely difficult decision to evacuate children and young people we'd been supporting in the 'It's Good At Home' centre in Dnipro. Having planned for this eventuality for weeks, several of the staff and their families came too.
Our Ukrainian colleague Daria, who accompanied the children every step of the way, talked to us about how we kept them safe on the long journey to shelter in Romania.
It was a mammoth event; nearly 50 hours, with more than 50 children! The children had their names and details attached to them in little wallets. Some were stamping feet to keep warm, everyone was nervous.
A carriage, specially prepared for us alone, opened. When the children were aboard safely, we instructed them to put all telephones on flight mode and to not call or send anybody their location. At night the train lights were out. And we didn't want any mobile phone lights to be seen from outside, in case we came under fire. We also had to reassure the children not to be scared if they heard any air raid sirens, or if the train stopped suddenly.
Despite cancellations and delays, we made it safely to the border point near the town of Solotvyno in the dead of night. But the bus was unable to go over the bridge between the two states.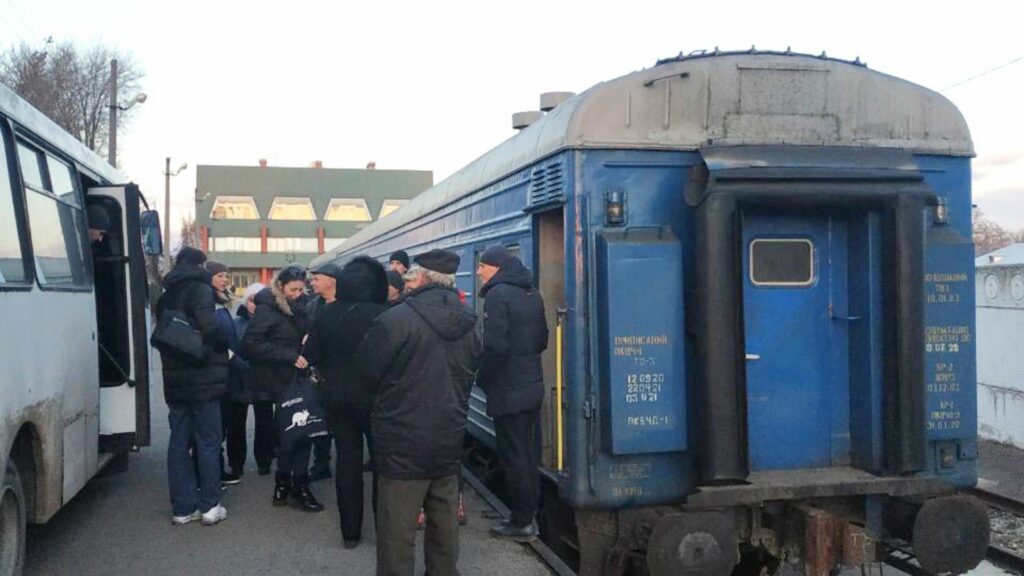 Luckily, kind Samaritans came to our aid to help us bring all the children and their luggage across through passport control. Just over the other side we were met in heated tents with hot drinks and packed lunches, brought by the Romanian team. They'd also brought thermos flasks full of hot water for baby formula, and motion sickness tablets which you just can't get in Ukraine anymore.
We told them, "No, don't worry. In this country, there's no war"
After a pit stop, we drove the final hours to the reception centre prepared for us in Iași. Throughout the journey the children were asking, "Have we arrived yet? Does it have air raid sirens? Please tell us it will not have sirens?" We told them, "No, don't worry. In this country, there's no war". It was very hard for them to understand that they didn't have war after one month of conflict.
Most of the children understand very well what's happening now back home in Ukraine, but so as not to stress them, we have said that the children of Romania have invited us to see their culture and to be their guests. They now see it more as a trip.
I really miss my country, Ukraine, but I'm really relieved that I have my own children with me in a safe country, and that I could help save these other children from the bombing. My husband insisted that that we leave Ukraine, while he stayed behind. I miss him. But here everything is good; everybody is happy to see us.
Daria Doshchuk is a regional coordinator at Hope and Homes for Children, Ukraine.
Support Ukraine

Make a donation

It has been a hard journey, particularly on the brave carers and educators who have evacuated along with their families so they can continue to support these children. Any gift you make will help us continue to protect vulnerable children.