Mariia* lives with her husband and three granddaughters in Ivankiv territorial community in northern Ukraine. At the start of the war, the Ivankiv territory was occupied by Russian troops for 36 days, from 25 February 2022 to 31 March 2022. It was one of the first communities in Ukraine invaded by the Russian occupational forces when they tried to attack Kyiv through the Chornobyl zone.
From the first few days of the war, the community was completely disconnected from the water supply, electricity, and heating systems, and there was no Internet or mobile connection for over a month. Within one week, almost all the shops were empty.
According to the head of the community, on the first day of the full-scale offensive, almost no one had time to leave Ivankiv. There were no evacuation corridors; the community lived in full occupation.
The occupiers robbed houses, tortured the civilian population, held them hostage, intimidated them, and took them outside to be shot. Those who survived lived in daily fear.
The destruction caused by heavy shelling was severe. Several villages were completely wiped out or severely destroyed. Some holes left in the ground from mines are seven to eight meters deep.
In total, more than 2,000 homes were damaged or destroyed.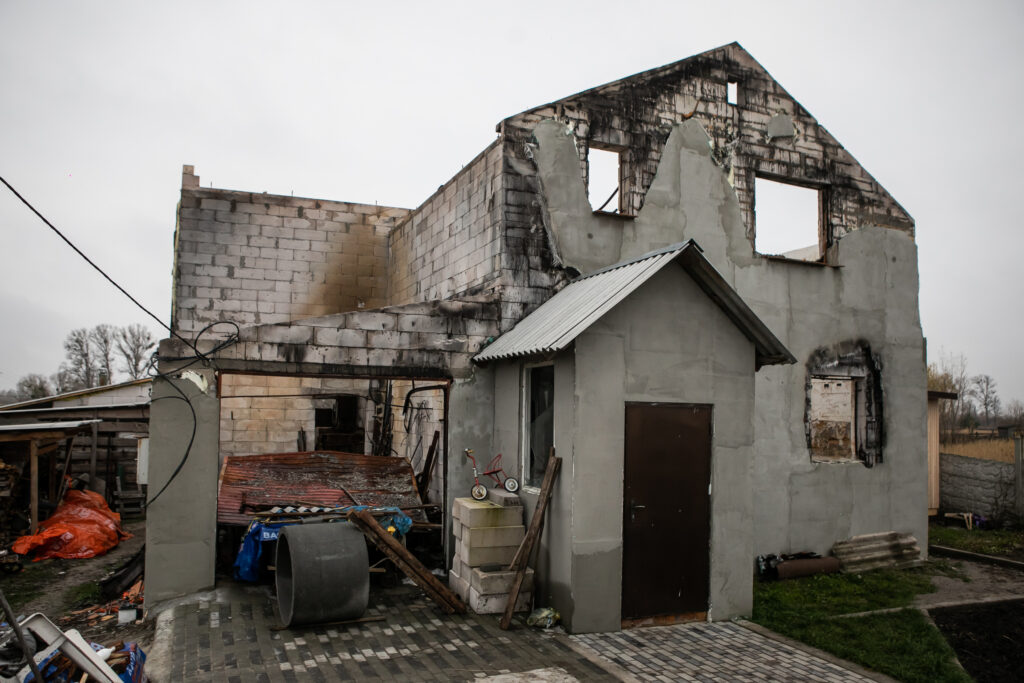 On the first day of the invasion, Mariia heard shelling and headed for the makeshift village bomb shelter with her husband, her daughter and son-in-law and three granddaughters—Alina*, seven, Oleksandra*, 10, and Oksana*, 13.
It wasn't much of a shelter, and towards the end of the day, her daughter and son-in-law made the fateful decision to return to their smallholding to look after their livestock. Her husband, Maksym*, followed them onto the village's main road just in time to see a Russian shell land and kill them both instantly, shrapnel also ripping into his leg.
Once the shelling had passed, Mariia and her granddaughters emerged from the bomb shelter: shocked and heartbroken. Mariia described to us how the children knelt down and kissed the faces of their now-dead parents as they lay in the road. A deeply traumatic moment that no child should ever have to go through.
Maksym was badly wounded and suffered a stroke, requiring expensive long-term medical treatment and rehabilitation. Mariia now has sole responsibility for supporting her injured husband and three orphaned granddaughters—Alina*, seven, Oleksandra*, 10, and Oksana*. It's vital to help Mariia care for the children. Otherwise, once the war is over, Alina, Oleksandra and Oksana could be at risk of being placed in one of 700 state-run orphanages in Ukraine, deprived of the individual love and attention every child needs.
As part of our regional response to the Ukraine crisis, in June 2022, we set up our Ivankiv Mobile team to support the children and families worst affected by the violence and prevent family separation. Made up of one social worker, two psychologists and one doctor, our specialist team has been providing vital support. This support includes helping families to repair their damaged homes, register for benefits, and find work; offering support for PTSD, grief, anxiety, and acute stress; and providing vital healthcare and referrals to medical specialists.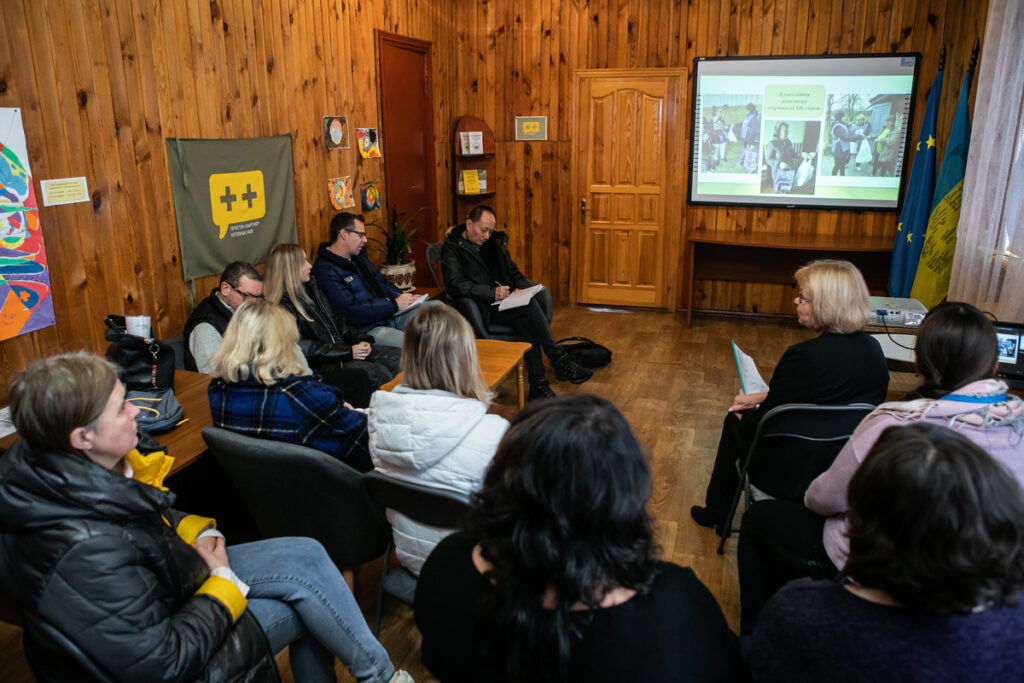 As of November 2022, the mobile team has provided social and trauma support to 234 families like Mariia's, reaching a total of 347 children. And we've provided basic essentials like hygiene products, detergents, and stationery to 96 families.
Our team supported Mariia and the family in a number of ways, including medical support, counselling, hygiene products and educational activities and materials for the children. Crucially, our trained local psychologist has also been working intensively with the three girls, using art therapy to support them in processing their grief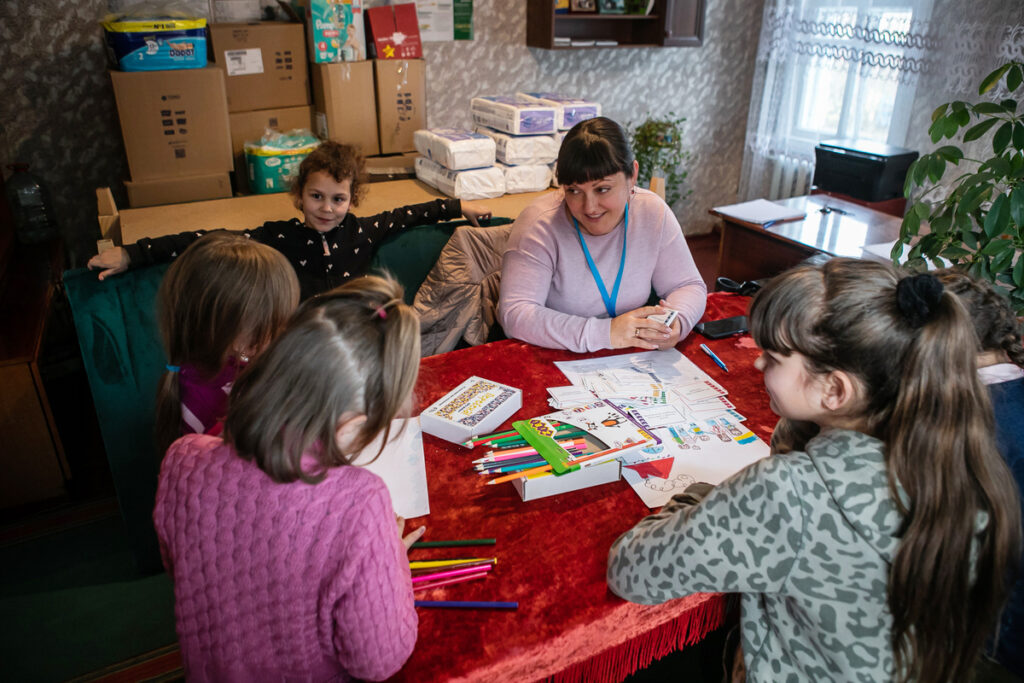 Since Mariia has to put almost all of the family's income towards Maksym's treatment, we also agreed to replace her broken fridge, so she can continue to store and cook healthy meals for her husband and granddaughters.
As well as taking care of her family, Mariia is the head of her village, having been elected three terms in a row. She's responsible for a broad range of managerial, administrative and security services for her own village and two other small villages nearby. As part of her role, she assesses the needs of the people in her community, works to find solutions, offers support, and refers them to the appropriate authorities and services.
In November 2022, our Director of Global Programmes, Pete Garratt, and our Regional Response Project Coordinator, Aman Yee, travelled to Ivankiv with our Ukraine Country Director, Halyna Postoliuk, and other members of our Ukraine team. During their trip, they visited Mariia to witness first-hand the extent of the devastation in the Ivankiv territory, understand the impact on children and families, and learn how our mobile team is operating there.
While they were in Ivankiv, Mariia kindly offered to host them at her home for dinner. It was an emotional evening, as she shared stories of what happened during the occupation, how her daughter and son-in-law were killed, and how her husband was wounded.
But the evening was also filled with laughter and merriment as the team toasted the future of her family and ate a delicious cake she proudly produced from her new fridge!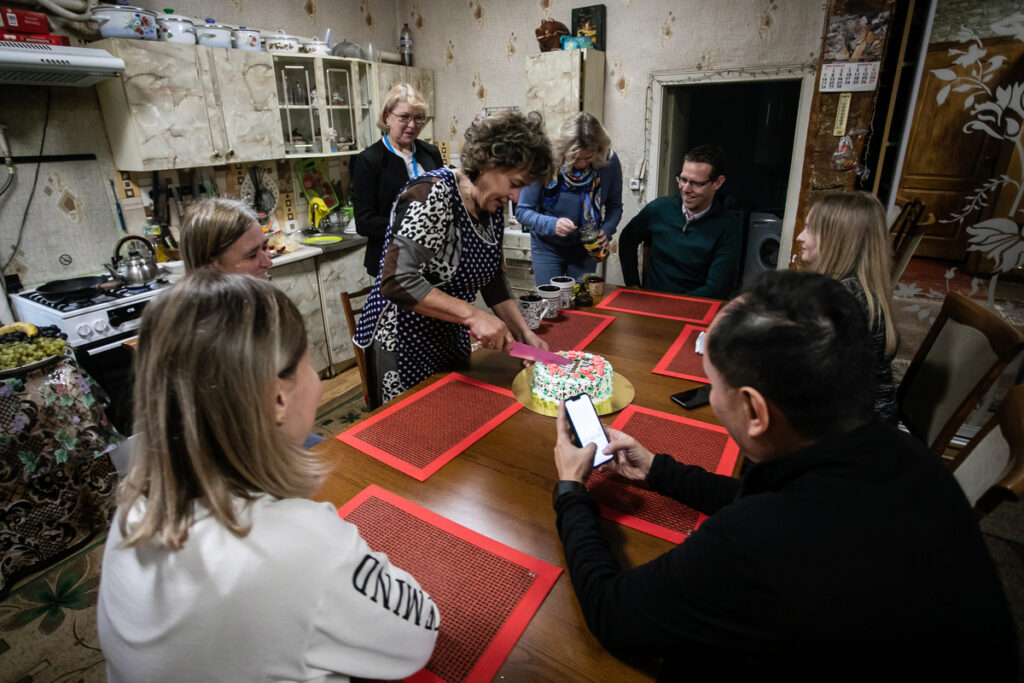 Despite her devastating loss and the heartbreaking challenges of the last year, Mariia is by no means defeated. She has quiet strength and determination and a warm smile for everyone she meets. Thanks to our team's support she's in a better position to support her three orphaned granddaughters and continues to offer compassion and hope – both to her family and the community she so bravely serves.
She says:
"With the heartbreaking challenges of the last year, my grandchildren were all very afraid. But thanks to the mobile team run by Hope and Homes for Children, they are a lot happier now, as they really enjoy the activities the mobile team offer. And I'm now in a better position to support them and continue helping my community."
If you have already donated to our Ukraine Crisis Appeal, thank you so much for enabling us to support families like Mariia's. If you'd like to make a donation to help us scale up our support services and reach more children and families, please donate here. Thank you.
*Names changed to protect identity.