In early May 2022, our CEO Mark Waddington visited our brave team in Ukraine. Despite the danger, these incredible people have stayed in the country to support the children and families still living there. Here are Mark's diary entries from this visit.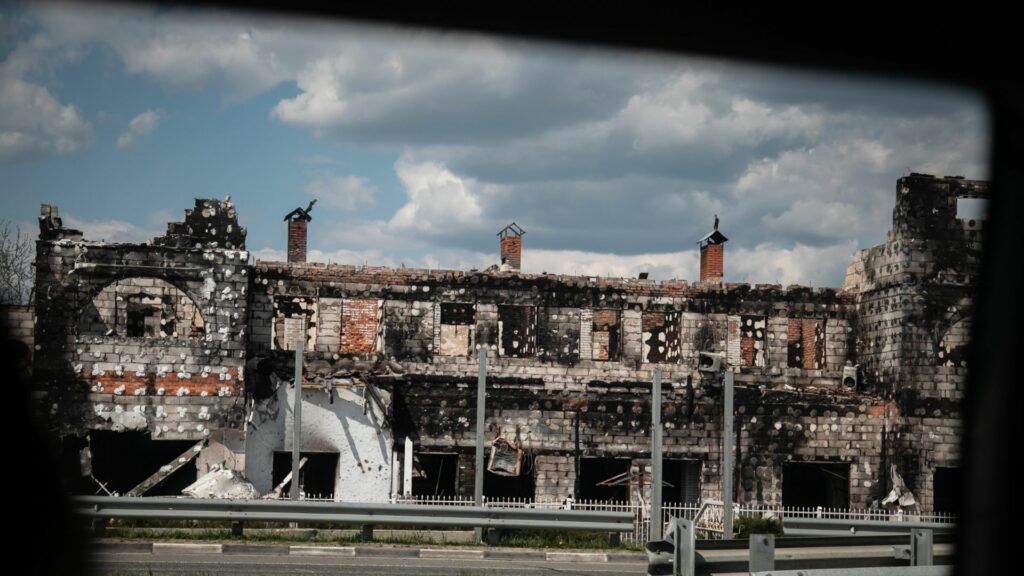 May 2nd, 2022
In Ukraine.

The damage committed by the Russians to infrastructure is widespread. In Borodianka, 98% of government buildings – schools, kindergartens, foster homes, health, administration – have been destroyed. This not only disrupts education and health services for children, it also prevents parents from getting back to work.

Our incredible team here are supporting some of the most vulnerable families with food, medicine and blankets. But the development of services that can endure over the medium to long term is important too. So, we've been discussing what the key needs are and how we can assist with local administrations. This will be especially important for children who are too often overlooked in humanitarian responses, like those with disabilities.
---
May 3rd, 2022
With Halyna, our inspirational country director, here in Ukraine.
Today we're assessing the damage a Russian rocket wrought on a school. It ripped through a second floor classroom, utterly destroying it. Tank shells have pockmarked the football pitch. The children were still in the school but were marshalled into the basement just in time. It is a miracle that no one was killed.
Schools provide vital safe spaces and ways of including vulnerable children. The invasion turned that upside down. Online schooling is now being rolled out but access to the internet is patchy and not everyone has the kit. We're planning to help with that.
---
May 4th 2022
We've just visited a maternity unit which had experienced repeated shelling – despite the huge signs making it clear it is a hospital. New mums and babies were inside when the building came under fire. Incredibly, they managed to escape.
63,000 babies have been born since the start of the invasion. We know from Bosnia and other places that parents transmit their trauma to children, even if the child wasn't alive during the conflict.
Older children have lived through terrifying moments themselves. Their trauma will have lifelong consequences if not attended to, making them vulnerable to being taken into care. Separated from their families.
There is a child mental health catastrophe rocketing toward us. But, we know that the trauma can be mitigated and/or prevented with the right mental health interventions.
That's why we're in the process of developing a mobile mental health outreach service in the worst hit towns around Kyiv. These will also provide us with a vital entry point through which to also access communities with families who need emergency provisions, like food.
The only reason we're able to do this is because of the generous donations of our amazing supporters.
---
May 5 2022
In the Kyiv region, 35 communities have been levelled and 15,000 buildings destroyed. Landmines have been laid in destroyed buildings by the Russians, which are killing dozens of people who are returning to their homes.
Tracts of land in the areas we're working in haven't been cleared of mines yet. We'll use the mobile units we're developing to train teachers and raise land mine and unexploded ordnance awareness among children.
---
May 6 2022
Here in Ukraine, there is always hope. Despite the damage inflicted on this school in a Russian rocket attack, the words of Gandhi on the wall are inspiring: the future depends on what you do today.
Our Country Director, Halyna, and our remarkable team, have been living by these words to deliver life-saving support to the children and families most affected by the war.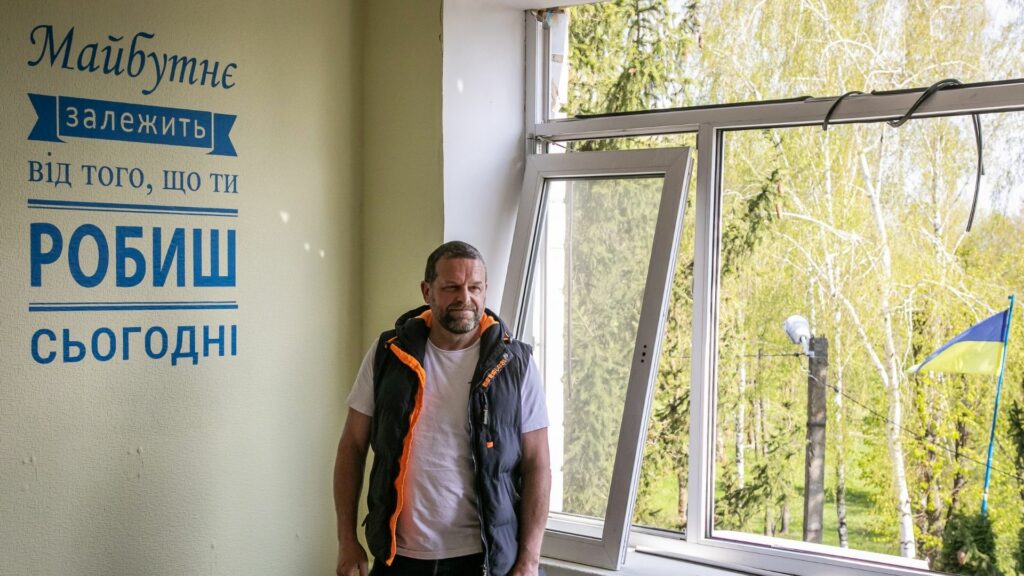 ---
May 7 2022
Most organisations have values. At Hope and Homes for Children we have three: courage, excellence and integrity. We talk about them a lot. They guide our toughest decisions and they help encourage the best in our behaviour and actions.

These two Wonder Merchants count among the best of us. Nadia on the left. Halyna on the right. When we were in Borodianka on Monday. They live and breathe our values and their application of them is the reason how they've helped to save the lives of so many children.

When the world is losing itself, there are some who just step up without any fuss and stop it from tilting on its axis. Nadia, Halyna and our team here in Ukraine, are among them.

You spread hope when others might have abandoned it.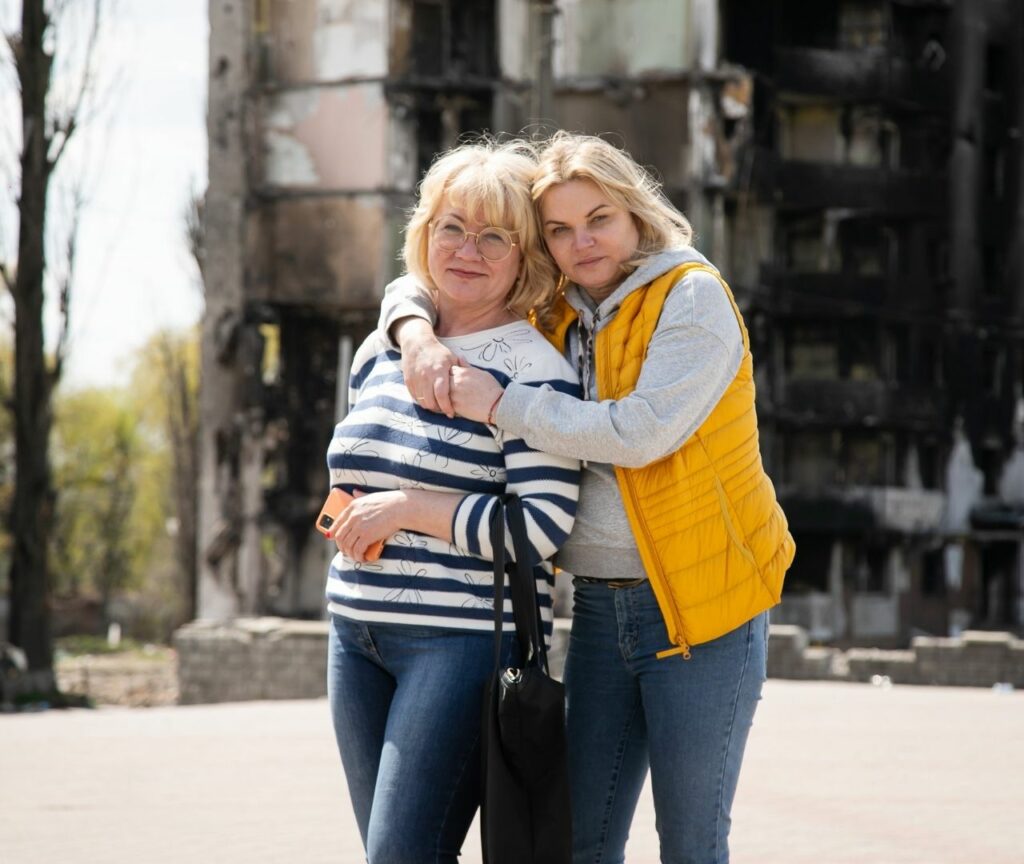 ---
May 8 2022
Amid the destruction wrought by the Russians there are countless stories of resolve, kindness and humanity.

Ivan escaped Mariupol in a transit van with his family. They picked up another 5 families along the way – all mums with their children. Fuel is short here and they were in danger of running out before getting to safety. Ivan spotted a damaged Russian tank just off the road, hopped out of the van with a rubber hose and siphoned the diesel out of it. Our team got them all accommodation and provided them with food when they arrived in Dnipro.

Then, there's young Dmytro, 14 years old, whose father was killed by Russian shelling and so has been caring for his mum who is living with disabilities. He had the help of his Gran. Then she died. Dmytro had to dig her grave and place her in it. No child should have to endure that. We are providing him and his mum all the support we can.

I had the privilege of meeting Lyudmila, head of the child protection department in Borodianka. The wanton murder, rape and shooting of hundreds of civilians, including children, is beyond grief. She carries this burden heavily, but with dignity and duty. Our team will be working with her to help rebuild the protection services and infrastructure that is vital in supporting families to protect and care for their children, including those with disabilities.

Our hope is that we will achieve all this by building a system that prevents children from being separated from their families and taken into care. Or, when necessary, provides them with alternative forms of family care.
We will be aiming to focus a significant part of that system on the 100,000 children associated with Ukraine's orphanages: those still confined in them; those sent back home without any preparation or planning; and those vulnerable to being locked up in them the majority of whom have disabilities and are being punished for that.

I cann't imagine finer humans than Lyudmila or my colleagues across Hope and Homes for Children to create the opportunity to succeed in this endeavour.

And to everyone who is supporting us. Thank you. Thank you so very much.