Buddhi Maya is a single parent to her four daughters and Maya is one of them. Three years ago, Buddhi's husband became uncontactable, leaving her and her daughters in a very vulnerable situation.
Maya was four years old when her parents made a difficult decision to admit her to Asha Orphanage in Chitwan District. "There was no good school in our village," Buddhi explains. "Nani (daughter) did not want to go. We cried the whole night until dawn broke and it was time for her to go. We did not want her to but the situation was very difficult for us."
For seven long years Buddhi Maya had not seen her daughter, Maya, while she was in the orphanage. "Every night when I tucked my three daughters to sleep, I missed Maya and imagined her sleeping peacefully next to her sisters but the emptiness always made me cry."  
In June 2021, Maya was removed from the orphanage with the collective help of the local, central authorities and our organisation and was reunited with her family. 
Buddhi, Maya's mother remembers: "When Maya came home after such a long time, I did not know much about my own daughter. Sending my daughter away had made us strangers."  With the help of our education and family support, today Maya is with her mother and sisters, which she had dreamed of for so long. 
Buddhi Maya said to Bina, our Reintegration Officer: "The support your organisation lit a sense of hope inside me that I can provide for my daughters no matter what struggles may arise."

From learning her ethnic language to sharing things as sisters, each day has been a learning experience for Maya.
Buddhi Maya is now providing for her four daughters 
Today, their house is a happy place due to the loving bond between mother and her four daughters. Maya and her sisters are working hard in their studies and do the household work while their mother is in work. Buddhi Maya knows that what she earns is a minimum wage but she is willing to struggle endlessly to provide for her daughters.  
Her daughters understand the hardships their mother has been facing to provide for the family. "When you have daughters, they will have many necessities," Buddhi Maya explains. "I have not been able to provide many necessary things but they understand when I say we will buy it next time."
Apart from her daily earnings, Buddhi Maya also looks after the tomato farm she cultivated in a leased land as a part of our income generation support.  
Continuing schooling during the pandemic
Maya is currently studying in Grade 8. She has become more open and expressive about how she feels and what she aspires to be due to our regular follow-ups and support. Due to the pandemic, Maya and her sisters' education is also affected. They cannot afford four separate mobile phones to continue online classes but they are managing from one mobile phone gifted by Maya's paternal uncle.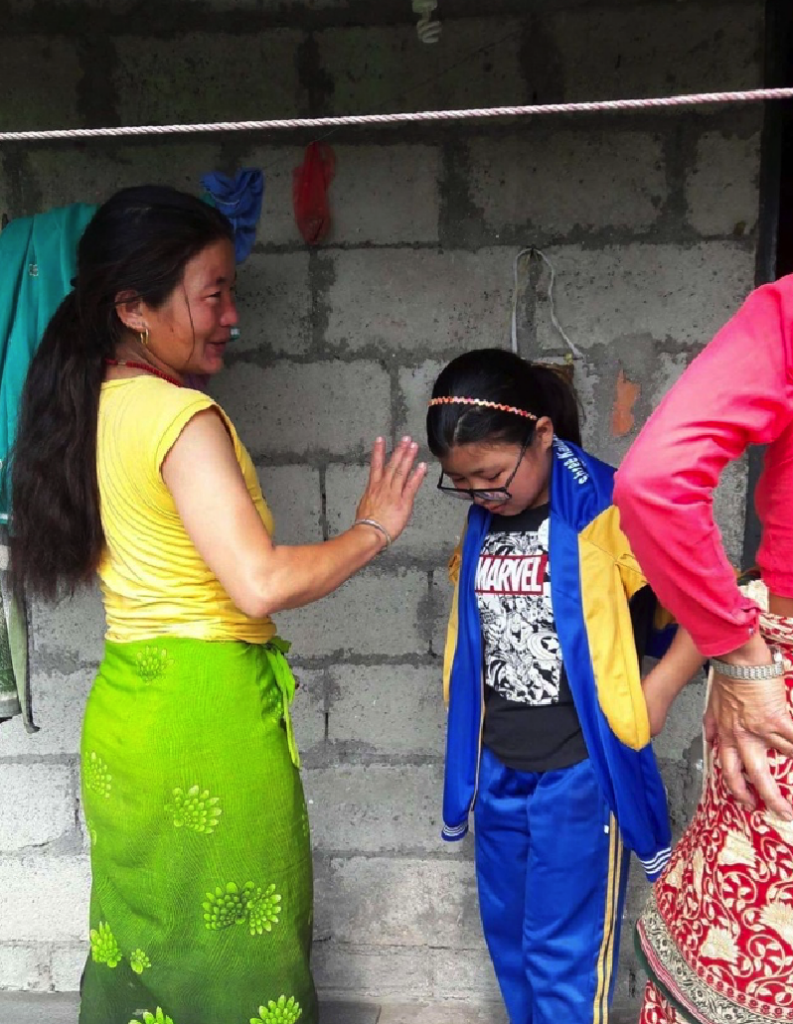 Buddhi Maya's new-found courage 
 "Everyone makes mistakes," Buddhi Maya says. "My husband also made a mistake but he did not return even after our daughters pleaded with him in phone calls and messages. Now, my daughters tell me – you are both our father and mother and this has added so much courage inside me." 
Her face lights up when she talks about Reintegration Officers Bina and Tenzin. "This office is like my family," she explains. "I know you cannot support us with everything. I will do all I can. Care is not just about giving money. The support I have received from you all always makes my heart happy and gives me courage. I pray your office helps other needy families as well. Dhanyabaad!"